Ladies and Gentlemen, members of NCURA Region V,  the Nominations Committee is proud to present Hollie Schreiber, as the Distinguished Service Award winner for 2018.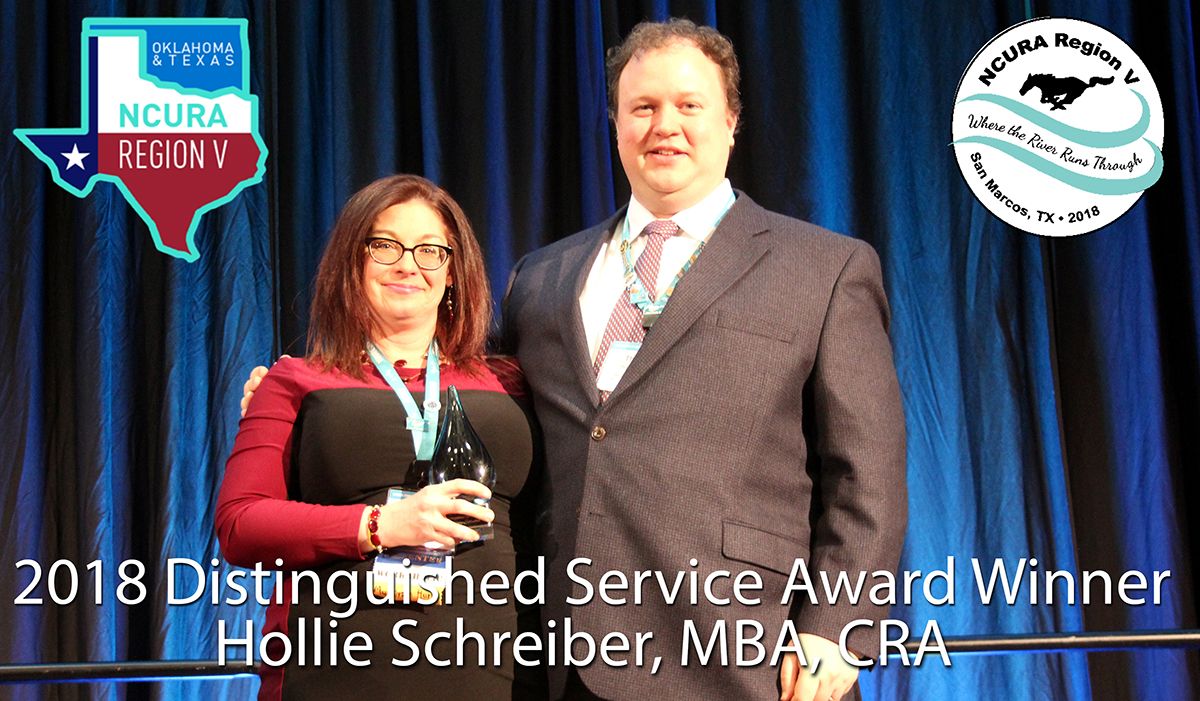 The Committee considers candidates who have made contributions such as the following:
Served as a regional officer
Served as chair of a regional committee
Made presentations and/or served on panels at regional meetings
Authored papers in a professional publication in the field of research administration
Mentored others within the region
Evidence of continuing and long-term contributions to research administration at the regional level
Served as a national officer or on a national committee
Hollie Schreiber, checks all the boxes and then some. She is currently the Director of Sponsored Programs, Division of Agricultural Sciences and Natural Resources. She has been with Oklahoma State University for over 13 years.
Hollie is the Director of Sponsored Programs for the Division of Agricultural Sciences and Natural Resources (DASNR) at Oklahoma State University. She has been with the Division since May of 2008. Her primary duty as Director is the management and supervision of all pre- and post-award (non-financial) activities for the Division.
She is also responsible for reviewing, creating and implementing internal procedures, providing reports to Division Administration, management of DASNR's FCOI policy, and working with Administration to advance the research mission of the Division. She works with faculty to provide grantsmanship resources and also provides training to faculty and departmental staff. She oversees five professional and two administrative staff.